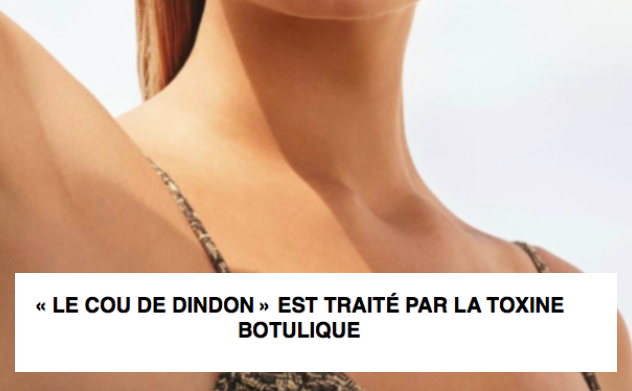 The expression "turkey neck" is announced when a stroke is crumpled. This because of its thin and delicate skin, the neck wrinkles, wrinkles and relaxes faster than the rest of the face.
A rejuvenation of the neck by injecting botulinum toxin (Botox) is an effective and safe treatment that corrects the stigmas of aging such as "turkey neck" or "baleen" without resorting to cosmetic surgery.
The Botox injection has been used for more than 20 years, in particular to treat spasms of the eyelids or the hands. In the field of aesthetic medicine, botulinum toxin has found its application in the treatment of wrinkles.
As part of a rejuvenation of the neck, the injection of Botox helps limit the muscle contraction of the skin muscle responsible for the "strings" located under the chin (turkey neck, baleen). It should be noted that in the event of sagging skin or excessive excess fat, a cervical or cervico-facial lifting will be more appropriate
The result of the rejuvenation of the neck is visible between the 3rd and the 5th day, the complete result after 2 to 3 weeks.
As with any act of aesthetic medicine, the result of a rejuvenation of the neck without surgery is not definitive. It is necessary to precede other injections (between 4 and 6 months) to maintain the desired result.