Why have plastic surgery after weight loss?
Obesity leads to complications and losing weight is essential to avoid diabetes ( excess sugar in the blood), increased cholesterol and the resulting cardiac complications (heart attack, heart failure). Not to mention the vascular complications (phlebitis due to venous insufficiency and pulmonary embolism), cerebral vascular accidents (CVA) and their neurological consequences (paralysis, hemiplegia, inability to speak). Bone and joint complications (osteoarthritis, joint pain, back pain and difficulty walking) are not to be forgotten.
You can see that obesity is dangerous for both men and women
To lose weight, diet and a good nutritional balance are essential but often insufficient.
Bariatric surgery: a radical solution for obesity?
It is then important to resort to bariatric surgery to reduce the size of the stomach (gastric ring, sleeve) or to bypass it. This terminology seems barbaric but this bariatric surgery is often essential for severe obesity where the weight loss must be greater than 35 kg.
Reshaping the body after bariatric surgery and/or very significant weight loss?
Once the weight has become acceptable, you feel better in your head, but you must also reshape your body, otherwise you will have the unpleasant impression of floating in an empty envelope.
Bodylift for men
The Bodylift allows for the lifting of the abdomen, hips, buttocks and the upper third of the thighs in a single operation. The body lift will be performed in the best possible conditions if weight loss is sufficient and stabilized. We also combine, if possible, a lipofilling of the buttocks, and a lipofilling of the breasts and pectorals.
Consultations are essential to start the treatment of obesity, weight loss and especially to stabilize at a correct weight by keeping a little fat to favor the lipofilling of the buttocks which is often indispensable, but also to maintain a correct muscle mass thanks to a nutrition adapted to the important weight losses after bariatric surgery and to exercise in order to rebuild muscle.
The treatment of the physical side effects of obesity is thus better organized and above all you will be reassured because you will be accompanied throughout this difficult weight loss phase.
The body lift combines a tummy tuck with a lifting of the hips, lifting of the buttocks and lifting of the thighs (upper third) or the entire thigh with vertical scars along the inner thighs.
En quoi consiste une chirurgie esthétique du ventre ?
Elles s'adressent aux abdomens distendus, ptosés, voire qui pendent (véritable besace ou tablier abdominal) après amaigrissement majeur et/ou pour les femmes qui ont eu plusieurs enfants. On parle alors de plastie abdominale après grossesse. L'intervention est décrite dans la rubrique abdominoplastie de notre site. Un lifting du ventre vous permet d'avoir un ventre plat, joli et fonctionnel avec moins de troubles du transit comme la constipation. La réparation du ventre est primordiale pour les femmes comme pour les hommes. Elle améliore l'hygiène, les gestes de la vie courante (lacer ses chaussures) et les relations amoureuses à travers la sexualité. Vous retrouvez une dignité pleine et entière, une nouvelle estime de soi. Ce n'est pas nous qui le disons mais nos patientes & patients !
How is a body lift performed?
It is the same technique of plastic surgery but more complete by including a buttock lift, a lower back lift. A thigh lift (upper third) may be associated, aiming to improve the stomach, hips, buttocks and thighs. The body lift was formerly called circular lipectomy. However, the technique has evolved and been perfected.
As with any surgical procedure, it is recommended to inform the surgeon of any current treatments and to avoid aspirin and similar drugs (anticoagulants) two weeks before the operation. The operation is performed under general anesthesia. The duration of the operation is approximately 3 to 4 hours. The hospital stay in the clinic is two nights.
The body lift requires two positions on the operating table:
First lying on the stomach and asleep. The plastic surgeon begins with a liposuction or lipoaspiration and the fat is kept for a eventual reinjection of fat in the buttocks or pectorals for example. Then the surgeon removes the excess skin and detaches it, especially from the buttocks and the outer side of the thighs, in order to lift the tissues that have migrated downwards during obesity and especially after weight loss. This way, you will regain your waistline and your buttocks will be more shapely.
Then, while you are still asleep and under general anesthesia, the surgical team proceeds with the turnaround or change of position: you lie on your back and the second stage of the body lift is performed, still with liposuction if necessary, followed by a tummy tuck, hip lift and upper thigh lift. Excess fat and skin on the abdomen are removed by a tummy tuck or abdominoplasty.
The stomach is flat and repaired. Two incisions meet and are closed with absorbable threads. It is like pulling up a pair of pants, all excess skin is removed and excess fat is redistributed. Lipofilling of the buttocks and/or lipofilling of the chest are often necessary.
Pressure therapy boots, which massage and drain the legs during the operation, are also indicated as well as heparin derivatives to slightly thin the blood. I would like to emphasise that this operation allows the lifting of the abdomen, hips, buttocks and thighs in a single operation. The dressing covers the scars. The drains are left in place for an average of 2 to 3 days. Compression stockings and garments are also put on at the end of the operation. The patient usually spends 2 nights in the clinic.
What are the post-surgery effects of a bodylift?
The postoperative course of a bodylift is the same as for an abdominoplasty. It is an important procedure and the postoperative instructions must be respected. Compression stockings to prevent phlebitis (venous thrombosis) are mandatory. The compression garment will be kept on for 4 to 8 weeks. As soon as you leave the OR, you will wear an elastic garment or a bodysuit for men to maintain the tissues in place and for better postoperative comfort.
Mobilization or standing up will be as for the abdominoplasty early, if possible as soon as you wake up. Polyvitamins, iron, painkillers and antibiotic prophylaxis are given systematically.
Are there complications after a body lift?
Inherent to the surgery, they are always possible but are rare (infection, bleeding, pulmonary embolism...) and can be treated. To avoid them, you must follow the postoperative instructions and take the prescribed medication. Complications specific to body lifts are possible and will be treated.
a change in the sensitivity of the skin of the buttocks and stomach that improves spontaneously with time
Skin necrosis is possible, especially in smokers, because smoking alters the blood circulation. This complication requires more frequent and longer dressings, but generally does not alter the aesthetic result.
A disunion of a scar is treated by directed healing or can be resutured. Scars may also evolve less discreetly than expected, but there are always solutions to improve them. A scar naturally fades almost completely over the years.
Can other types of lifting be combined with a body lift?
Other body lifts such as thigh lifts or buttock lifts may be indicated as well as inner thigh plastic surgery using inguinal techniques (short scar, located in the folds of the pubis) and/or vertical techniques for large skin distensions that will be resected up to the knees or arm lifts (or brachioplasty) with short axillary or long vertical scars.
Brachioplasty with long vertical scars is indispensable for very distended arms and improves the physical and psychological condition of my patients. As a general rule, they are performed in a second phase of surgery for buttock lipofilling or breast and pectoral lipofilling, which are performed at the same time as the body lift.
Finally, I had to mention the back lifts (medial and lateral) which are of great benefit to my patients, especially after a major weight loss (torso lift and lateral chest lift).
Result of a bodylift
In general the result is gratifying. The functional and aesthetic improvement is very clear. Patients no longer hide their bodies and wearing clothes becomes much easier. It takes from six months to a year to achieve a final result.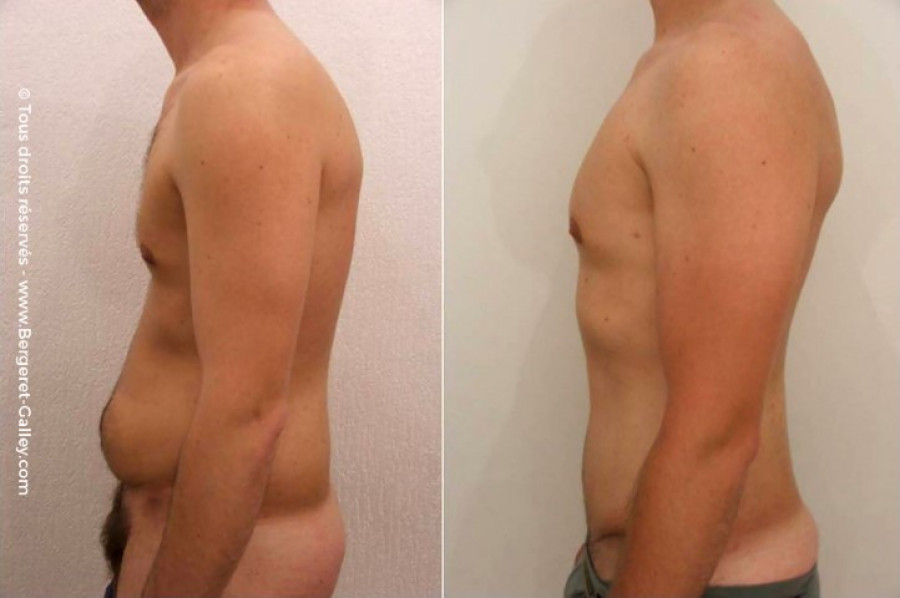 Price of a body lift
If you wish to benefit from a Bodylift, you should know that the price of this operation is between 6000 and 10 000€.
In the particular case of the consequences of severe obesity, this operation may be partially covered by the social Security system.
Would you like to make an appointment with Doctor Bergeret-Galley?
Contact us here